Just so much to do
Activities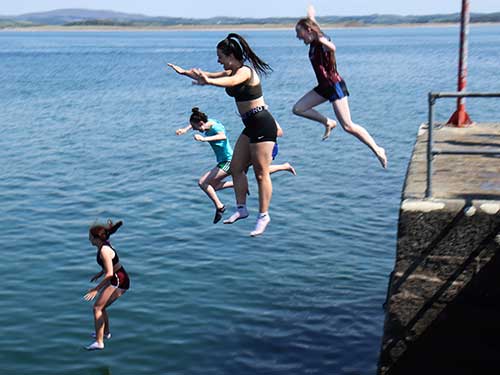 Bundoran is deservedly known as "the Jewel in the Crown" in the Northwest with something for everybody.
Located against a backdrop of the Ben Bulben Mountain Range and overlooking the majestic Donegal Bay the resort is blessed with long unspoilt beaches, outdoor activity opportunities and a treasure trove of indoor activities for both the children and the parents,
Named in the top twenty surfing destinations worldwide there are many opportunities to surf and stay with surf schools offering great packages for both beginners and seasoned surfers as well as a great choice of other water based activities.
Though recognised worldwide for its great Atlantic waves Bundoran is much more than a Surfer's Paradise it is very much a family-friendly resort with just so many facilities designed to ensure that the children are perfectly happy.
Ireland's greatest family destination
A favourite with all the family is Waterworld which is Ireland's first and biggest indoor aqua parks providing a choice of pools, exciting slides and waves and water tunnels. Included in this complex are the superb Bundoran Seaweed Baths where you can just simply relax and unwind experiencing an all-natural, saltwater organic experience using freshly harvested from the nearby Wild Atlantic.
The fun comes easy at the famed Bundoran Adventure Park which is one of the North West's top tourist attractions located directly on the seafront Bundoran.
Bundoran Adventure Park has so much to offer all age groups whether it's for the daredevils on the new Crazy Mouse Roller Coaster or one of the many kiddies rides for the younger generation or indeed the famous Big Wheel there is a large number of high quality rides to choose from.
Guests can also enjoy a game of Adventure Golf or maybe take a spin on the go-karts? You can be assured that it will bring out that hidden child in you and revive the great memories of the day at the seaside.
The town also hosts a great selection of children's playgrounds, a top-class multi-screen cinema and a new "Boot Golf" course.
Spoilt for Choice
Known as the "Golden Mile" the bustling town centre offers a superb choice of restaurants, lounge bars and amusement centres for both adults and children.
The town's restaurants and bars are all family-friendly and cater for all pockets and tastes offering the very best of fresh seafood and local produce, all served with that famous Donegal welcome.
After a day on our golden beaches or a walk around the stimulating Rougey Cliff walk call into Mack's Amusements Centre and enjoy a great game of Ten Pin Bowling with the family.
The Amusements area also includes a family orientated area which includes Kiddies Rides, Ticket Redemption Machines, Teddy Cranes Area, Pushers, Ball Games, Car Simulator and Gun Games, Bingo Machines and much much more!
Mack's Amusements also offers a socially responsible over 18's Gaming Section, with all the latest gaming machines. If you fancy a bit of a flutter why not try your luck – you just never know you could end up winning the jackpot.

Stay with us
Rooms from €80 per night
Includes Breakfast, Free Wifi & Free Car Parking On Site
Viscount Guest House
Bayview Terrace
Bundoran,
Co. Donegal,
F94 CKF6